Cosmetic Acupuncture Clifton
Cosmetic Acupuncture in Clifton, NJ
Facial acupuncture in Clifton, NJ offers genuine constitutional change through pattern diagnosis, constitutional acupuncture and herbal medicine. Chinese Acupuncture has been widely used for anti-aging, beauty and overall health.
What is Cosmetic Acupuncture in Clifton and how does it work?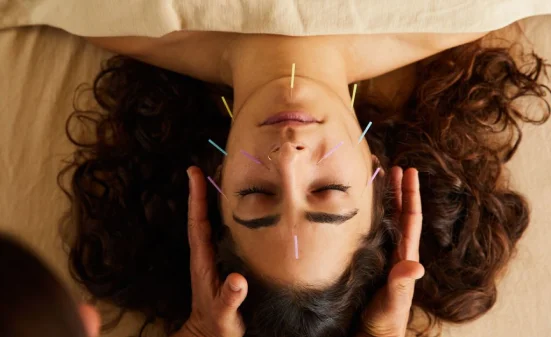 For facial rejuvenation acupuncture, needless are inserted on the face in upward direction for lifting effect. Distal Points in facial rejuvenation acupuncture are any acupuncture point not located on the face or neck. They always are placed according to the underlying TCM pattern presenting in each client. The other key reason to use distal points is to keep the person "grounded" and stop too much blood (and qi) rushing to their head.
Features of Cosmetic Acupuncture at Pulse Acupuncture in Clifton, NJ
Usually, needles are inserted using facial acupuncture points, under either end of the wrinkle to begin shortening it. This is a common technique to help prevent wrinkly elongating. In many cases the wrinkly will actually lift up during and after the treatment. This may worry the client, but it indicates a good result as it immediately moves blood. Facial cosmetic acupuncture works by tightening of connective tissue that is one of the main causes of changes in facial shape as we age. The best effect of acupuncture treatment is instant acupuncture face lift.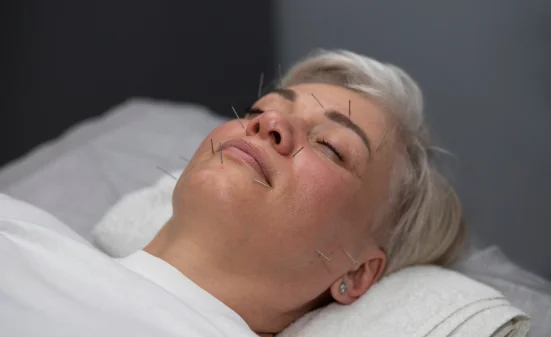 Complementary products during the treatment at Pulse Acupuncture in Clifton, NJ
Pulse Acupuncture, located in Clifton, NJ, offers a range of complementary products to enhance and support the acupuncture treatment experience.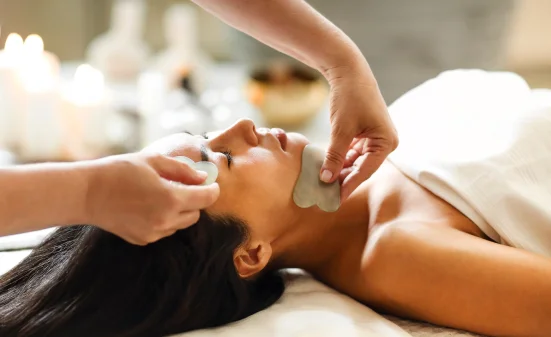 Gua Sha is an ancient Chinese Beauty tool which translates as "scraping board". They target specific points on the face and so have a deeper therapeutic effect. Some limited research has been done on Gua Sha therapy and it shows an increase in microcirculation of up to 400% following a single treatment. This aids skin nutrition before Cosmetic Acupuncture Treatment.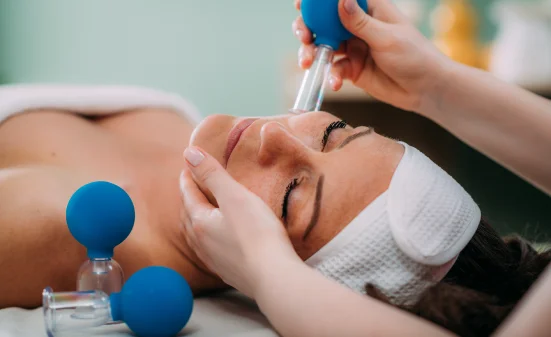 Cosmetic cupping is performed as moving cupping in an upwards and outwards direction across the face. Cupping also produces all the usual benefits of massage such as increased lymphatic drainage, improved microcirculation. Additionally, research has shown that cupping may actually break up old connective tissue.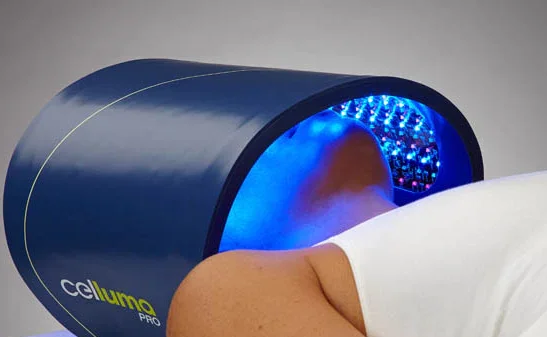 RED Light Therapeutic Devices
Using RED Light Therapeutic Devices in conjunction with Cosmetic Acupuncture gives good visible results. We use Celluma Red Light Therapy, Tomma Red therapy Dome and Far-Infrared/Near-Infrared Onnetsu Dome. Every session that red light is applied after facial acupuncture treatment, red light benefits the entire body, because factors released from cells which receive red light promote proper function in cells adjacent to them. Furthermore, blood cells also absorb red light, so as it passes the area of the body being exposed to red light, the light absorbed will then travel through the bloodstream and end up nourishing cells in other regions of the body. This means that all red light sessions reward the entire body as a whole or holistically. Red light therapeutic range: 620-700 nm. Red light protects the body from damaging radiation and bolster energy production inside every cell with which they interact.
Benefits of Cosmetic Acupuncture
Here are some benefits of facial acupuncture:
Reduction of deep wrinkles

Boosts collagen and elastin production

Reduces puffiness

Relieves tension and improves muscle tone

Reduces acne and age spots

Boosts blood and lymph circulation

Promotes lymphatic drainage and blood circulation

Reduces jaw tension and TMJ symptoms

Rejuvenates the skin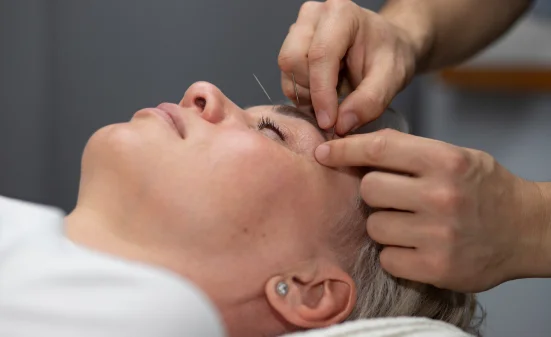 Side Effects of Cosmetic Acupuncture
Below are potential side effects of facial acupuncture:
Bruising

Bleeding

Dizziness
It is essential to choose a licensed and experienced acupuncturist to minimize the risk of side effects.
Cosmetic Acupuncture at Pulse Acupuncture Clifton, NJ
While the primary focus may be on facial treatment, it's important to mention that Pulse Acupuncture also offers services like orthopedic acupuncture Clifton. The facial acupuncture at Pulse Acupuncture consists of a 10-12 week course at a frequency of 2 times per week. The length of treatment is aimed at fascial enhancement and reducing fine lines, strengthening facial muscles, tightening contours of the jawline, and overall lifting effect.
In March of 2016, Marina Doktorman, L.Ac. went to South Korea to study Cosmetic and Facial Acupuncture, studying personally with Dr. Inho Jung, KMD. She is certified in Inno Cosmetic Acupuncture Technique.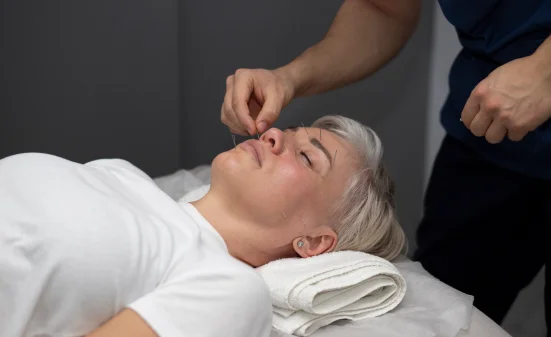 What conditions can you treat with Acupuncture at Pulse Acupuncture in Clifton, NJ?
The World Health Organization currently lists a variety of diseases, symptoms of diseases, or conditions that benefit through treatment from acupuncture. These include:
Neck
Upper back
Low back
Knee injuries
Arthritis
Elbow
Wrist pain
Sport injuries
Thoracic syndrome
Bursitis
Hormonal imbalance
PCOS
UTIs
Frequent urination
PMS
Infertility
Erectile Dysfunction
Miscarriage prevention
Nausea
Baby health
Stress
Anxiety
Depression
Trauma Healing
Insomnia
Acne
Eczema
Dermatitis
Psoriasis
Lichen Sclerosis
Herpes
First visit: (includes evaluation, cupping, onnetsu therapy, massage):
$145
Follow-up acupuncture visit (includes cupping, onnetsu therapy, massage)
$125
Cupping (without acupuncture)
$75
Onnetsu Therapy (without acupuncture) 15 min:
$60
Dome Fir-Light
(only for Clifton location)
$40/40min
$60/60min
First visit: evaluation, acupuncture, serum, moisturizing
cream, gua-sha fascial massage, Celluma Red Light Therapy:
$250


Cosmetic Acupuncture Clifton - FAQ
Cosmetic Acupuncture works by inserting fine, sterile needles into specific acupuncture points on the face and neck. This stimulates the production of collagen, elastin, and hyaluronic acid, which are essential for maintaining skin elasticity and hydration. The treatment also increases blood flow to the face, promoting a healthier and more radiant complexion.
The number of Cosmetic Acupuncture sessions required will vary depending on the individual's specific needs and desired results. Generally, a series of 10-12 sessions is recommended, with treatments occurring 1-2 times per week. After the initial series, maintenance sessions may be scheduled every 4-6 weeks to maintain results.
Facial Acupuncture offers numerous benefits, including:
Reduction of fine lines and wrinkles
Improved skin tone and texture
Tightening of sagging skin
Reduction of facial puffiness
Minimization of acne and acne scars/li>
Gastrointestinal disorders
Digestive track problems, hiccups
Enhanced complexion and overall facial appearance