Fire Cupping
Cupping Therapy in Brooklyn, NY
Cupping therapy at Pulse Acupuncture Practice, at Brooklyn, NY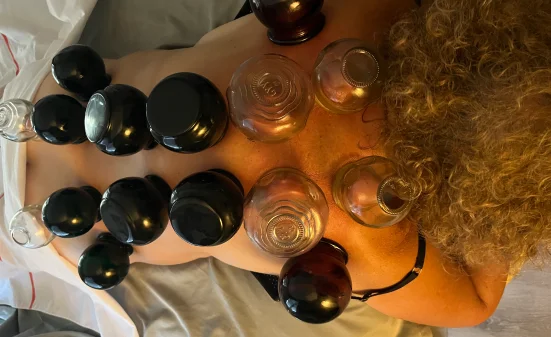 Cupping is a form of Chinese Medicine in Williamsburg, NY and together cupping and acupuncture has been around for thousands of years. Cupping procedure uses cup suction (made of glass or bian stone), the cupping purpose is to promote healing. Cupping generally works by creating suction on an area of skin or specific cupping point.
There are different types of cupping therapy: fire cupping, dry cupping, blood (wet Cupping), detox treatment, trigger points, abdominal cupping, myofascial decompression, orthopedic cupping, bio- magnetic cupping, myofascial decompression, massage cupping.

At Pulse Acupuncture, Williamsburg, New York we also use Bian Stones for fire cupping, a practice that complements "Esoteric Acupuncture" well. Precious and rare in nature, the Bian Stones are found in the mountains of northern China. The Bian Stones deliver special far-infrared rays, trace minerals that are beneficial to healing. The Bian Stones used at Pulse Acupuncture are individually picked and manually manufactured for medical cupping therapy. The Bian stone cups are believed to work better than the regular glass cupping since it releases trace minerals when heated up by fire.
What is Cupping Therapy in Brooklyn and how does it work?
For fire cup therapy at Pulse Acupuncture, an alcohol-soaked cupping torch is ignited by fire and quickly inserted into the open end of the cup's belly. Then, the cotton cupping torch is removed creating a vacuum and a glass cup is quickly placed on specific areas of the body. The vacuum cup therapy creates suctions and gently pulls and lifts the skin away from the muscles. While the skin is pulled, it increases blood circulation to the area as well as pulling the toxic waste out. The cups are rolled on the back mimicking a negative pressure massage. It is usually very comfortable for clients. The rolling action creates myofascial release and incorporates different movements in circular, sliding or linear directions to relieve stubborn knots. The skin will change color from red to purple, indicating that circulation has been brought to the skin's surface. The increased blood supply in vacuum cupping brings nourishment and stimulates lymphatic systems to remove stagnation and pull-out toxins. The pulling action influences the parasympathetic system to promote relaxation throughout the entire body.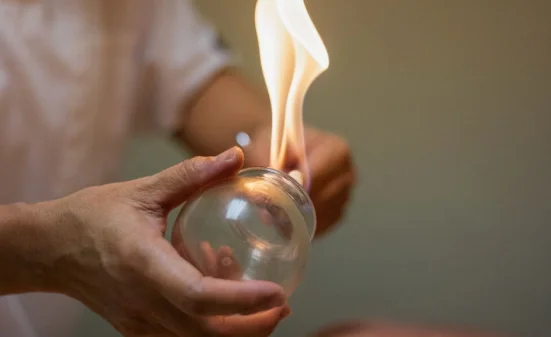 The suction can be light to heavy. Variety of movements will produce stimulating (toning) or sedating (draining) effects depending on the client's condition. For manual vacuum cups as cupping medical equipment, Marina Doktorman, L.Ac. utilizes a hand pump. Manual cups range from plastic, silicone, rubber, cups with magnets and glass cups with rubber bulbs. A cup is placed at the area and a hand pump is employed to create a vacuum to produce a suction effect similar to fire cupping. The suction promotes lymphatic circulation, relaxes muscles, moves stagnation, draws toxins and pathogens out of the body.
Cupping at Pulse Acupuncture in Williamsburg, Brooklyn
Women around the world have been applying negative pressure facial cupping for rejuvenation and maintenance for centuries. The cups used in facial protocols are smaller and vacuum created to lift facial tissue for lymphatic drainage. This method is used to achieve local circulation of the skin, increase nutrients brought to the epidermis and drain the fluids and debris through the lymph. The muscle of the face will benefit from reduced tension, tightness, wrinkles will soften and skin will plump up producing more collagen and elastin.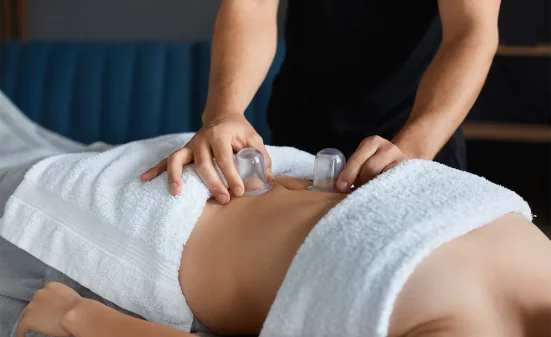 Effective cupping treatment for the digestive system. Decompression techniques stretch the walls of the abdominal region, moving the stagnant waste, mucus and overall increasing of activity of digestion. The excess amount of waste will be expelled following the treatment and aids in eliminations throughout several days. The stretching and opening of the abdominal walls help with constipation, menstrual cramps, gas, bloating and reduces acidity.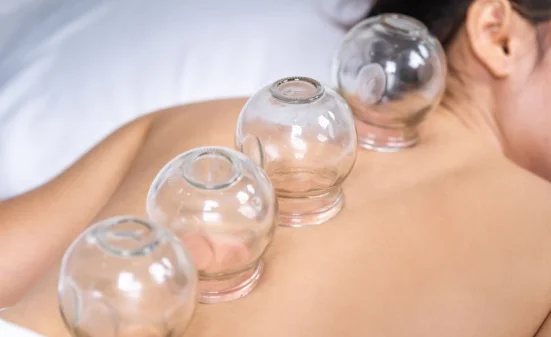 Flash cupping is repeated application and release of cups on the skin. After vacuum suction is created, cups are placed and released. The procedure is repeated over and over for 10-15 min on a specific area of the body to relieve congestion. The procedure is gentler than stationary cupping and more suited for clients with deficient or weak constitution. This is alternation between suction and release techniques.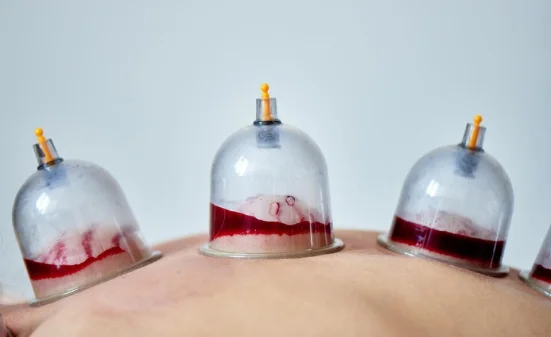 Wet cupping is practiced through application of sterilized single-use lancets to puncture skin and plastic single-use cups are applied to promote stagnant blood to drain into the cup. The bleeding method is the most effective as specific areas on the back are designated to treat various painful symptoms where other therapies have failed. The most effective method of wet cupping is generally used for treatment of arthritis and knee pain. Wet cupping removes inflammation from joints, energizes the body, increases metabolism, helps in asthma, blood circulation, blood pressure, removes toxins and pathogens.
Cupping can be performed with acupuncture or without. The price of cupping at Pulse Acupuncture is a flat rate for 30 min of cupping therapy. (See Our pricing).
The Benefits of Cupping Therapy
Acupuncture and Cupping work in conjunctions and produces the following cupping benefits:
Effective for spastic and tight muscles

Improves range of motion

Relieves Asthma, opens up chest and promotes better breathing

Alleviates allergy symptoms by expelling mucus 

Breaks up adhesions, compacted muscles bands

Helps to break trigger points

Promotes lymphatic drainage and blood circulation

Works for foot problems such as Plantar Fascial release

Reduces inflammation

Flushes out toxins and pathogens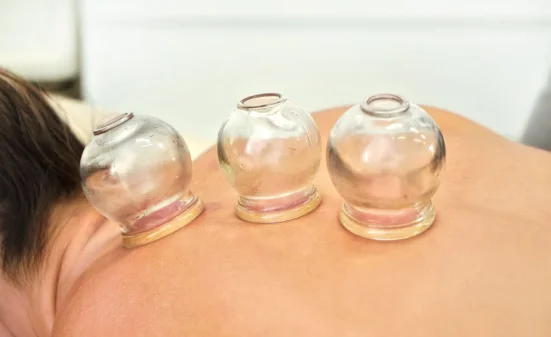 Side effects of Cupping Therapy
Cupping causes skin discolorations and bruising that could last from several days to weeks. In rare cases cupping may cause blisters if cups are retained longer than 30 min. Cupping should not be performed for pregnant women, patients with liver, kidney, heart failure or those with pacemakers. Cupping should not be used for people with anemia, blood disorders or blood thinners. In rare instances, some patients can experience nausea, dizziness or sweating and mild soreness in the areas where cups were placed. Patients with eczema should inform their practitioner as cupping may worsen that area.
What conditions can you treat with Acupuncture at Pulse Acupuncture in New York?
The World Health Organization currently lists a variety of diseases, symptoms of diseases, or conditions that benefit through treatment from acupuncture. These include:
Neck
Upper back
Low back
Knee injuries
Arthritis
Elbow
Wrist pain
Sport injuries
Thoracic syndrome
Bursitis
Hormonal imbalance
PCOS
UTIs
Frequent urination
PMS
Infertility
Erectile Dysfunction
Miscarriage prevention
Nausea
Baby health
Stress
Anxiety
Depression
Trauma Healing
Insomnia
Acne
Eczema
Dermatitis
Psoriasis
Lichen Sclerosis
Herpes
First visit acupuncture treatment
(includes evaluation, cupping, onnetsu therapy, massage):
$185
Follow-up acupuncture visit (includes cupping, onnetsu therapy, massage)
$165
Cupping (without acupuncture)
$75
Onnetsu Therapy (without acupuncture) 15 min:
$60
First visit: evaluation, acupuncture, serum, moisturizing
cream, gua-sha fascial massage, Celluma Red Light Therapy:
$250


Cupping Therapy Testimonials in Brooklyn