Electroacupuncture
Electroacupuncture in Brooklyn, NY
Individuals seeking alternative and effective treatment options can explore the benefits of electro acupuncture in New York. One prominent  destination for electroacupuncture in New York is Pulse Acupuncture, a reputable healthcare center dedicated to providing holistic and personalized care. Led by experienced practitioner Marina Doktorman, Pulse Acupuncture offers a range of therapeutic modalities, including electroacupuncture, to address various health concerns and promote overall well-being.
What is Electroacupuncture in Brooklyn?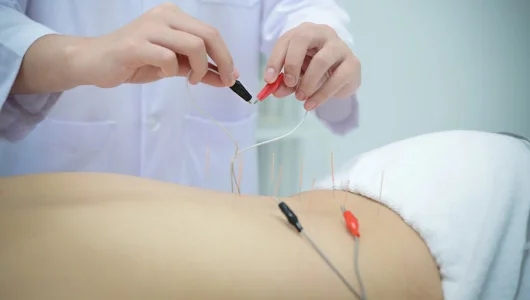 Electroacupuncture at Pulse Acupuncture combines traditional acupuncture techniques with electrical stimulation to enhance the therapeutic effects of the treatment. By introducing a mild electric current through acupuncture needles, acupuncture with electricity can modulate and stimulate the flow of energy, or qi, in the body. This unique approach amplifies the benefits of acupuncture, offering a more targeted and potent healing experience for individuals seeking relief from pain, inflammation, and various health conditions.
How Does Electroacupuncture Work?
Electroacupuncture involves the use of a specialized electroacupuncture device that delivers controlled electrical currents through acupuncture needles. This electro stimulation acupuncture technique can be applied at different frequencies and intensities based on the specific needs of the individual. During an electroacupuncture session at Pulse Acupuncture,
acupuncture needles are strategically inserted into specific acupuncture points, and the electroacupuncture device is connected to create a gentle current.
Electrical stimulation acupuncture techniques uses the traditional Chinese medicine principles by promoting the release of endorphins, natural pain-relieving chemicals produced by your body. It also influences the nervous system, enhancing the communication between the body and the brain. The combination of acupuncture with electrical stimulation helps regulate physiological processes, reduce inflammation, promote circulation, and encourage the body`s natural healing response.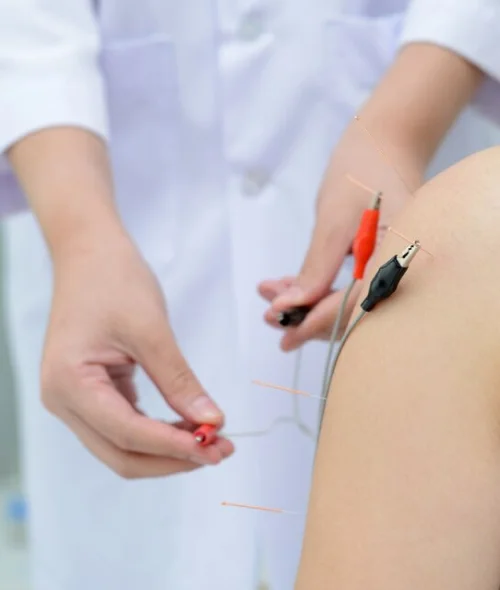 The Benefits of Electro-Acupuncture at Pulse Acupuncture
Electroacupuncture offers a range of benefits for individuals seeking alternative therapeutic options. At Pulse Acupuncture, the electrical stimulation acupuncture treatments are carefully tailored to each patient`s specific needs, ensuring a personalized treatment experience. Some of the key electroacupuncture benefits include:
1. Enhanced pain relief: Electroacupuncture has been found to be particularly effective in managing acute and chronic pain conditions. The electrical stimulation helps to alleviate pain by activating the body`s natural pain-relieving mechanisms and reducing inflammation.
2. Improved muscle function: Electroacupuncture can enhance muscle function by stimulating muscle fibers, promoting blood circulation, and improving nerve to muscle communication. This makes it a valuable adjunct therapy for individuals recovering from injuries or seeking to optimize their physical performance.
3. Stress reduction and relaxation: The gentle electrical currents used in electroacupuncture have a calming effect on the nervous system, helping to alleviate stress, anxiety, and promote deep relaxation. This can have a positive impact on overall well-being and mental health.
4. Accelerated tissue healing: By promoting blood flow and circulation to the affected areas, electroacupuncture can support the healing process of injured tissues. It can be beneficial for individuals recovering from surgeries, sports injuries, or musculoskeletal conditions.
5. Enhanced treatment outcomes: When combined with traditional acupuncture, electrical stimulation acupuncture can enhance the therapeutic effects of the treatment. It can help optimize acupuncture sessions and improve treatment outcomes for a wide range of health
concerns.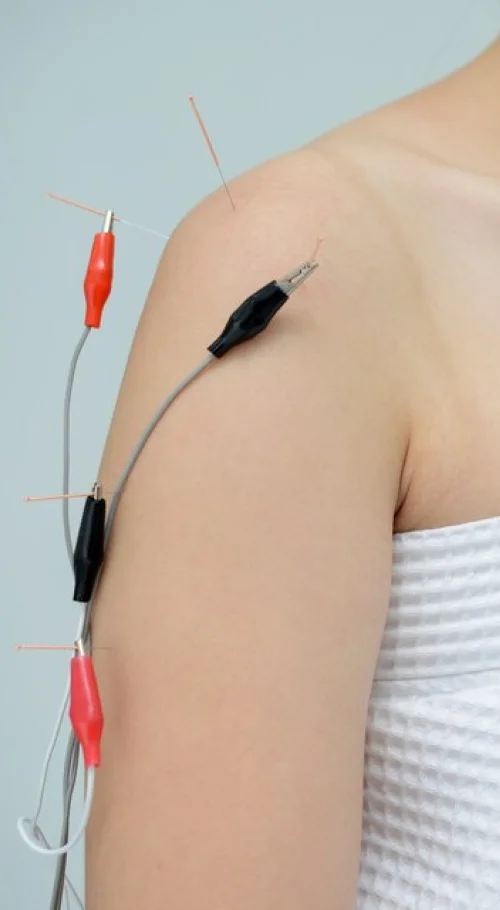 Side Effects of Electroacupuncture
Electric acupuncture is generally safe and well-tolerated when administered by trained professionals like Marina Doktorman and her team at Pulse Acupuncture. However, as with any therapeutic intervention, there may be some potential side effects to consider. These electroacupuncture side effects are typically mild and temporary, including slight bruising or soreness at the needle insertion sites. In rare cases, individuals may experience dizziness, fainting, or skin irritation. It is important to communicate any concerns or pre-existing medical
conditions with the practitioner to ensure a safe and effective treatment experience.
Electro Acupuncture at Pulse Acupuncture in Williamsburg, Brooklyn
At Pulse Acupuncture in Williamsburg, Brooklyn, Marina Doktorman and her team specialize in providing exceptional electroacupuncture treatments. Their expertise in electrical acupuncture allows them to address a wide range of health concerns and tailor treatments to suit each individual`s needs. With their comprehensive approach to healing, incorporating traditional acupuncture, acupuncture electrical stimulation, and other therapeutic modalities, they strive to support their patients on their journey towards optimal health and well-being.
Marina Doktorman and her team conduct thorough assessments, taking into account the unique health history and goals of each individual. This allows them to create personalized treatment plans that integrate both electroacupuncture and trigger point release as part of a holistic approach. By incorporating these techniques into their practice, Pulse Acupuncture aims to provide the highest level of care, empowering individuals to achieve lasting wellness.
Electroacupuncture at Pulse Acupuncture in Brooklyn, NY, offers a valuable treatment option for individuals seeking natural and effective solutions for their health concerns. Through the skilled application of electrical stimulation acupuncture, Marina Doktorman and her team help individuals experience the numerous benefits of this modality, supporting their overall well-being and promoting a harmonious balance of body and mind.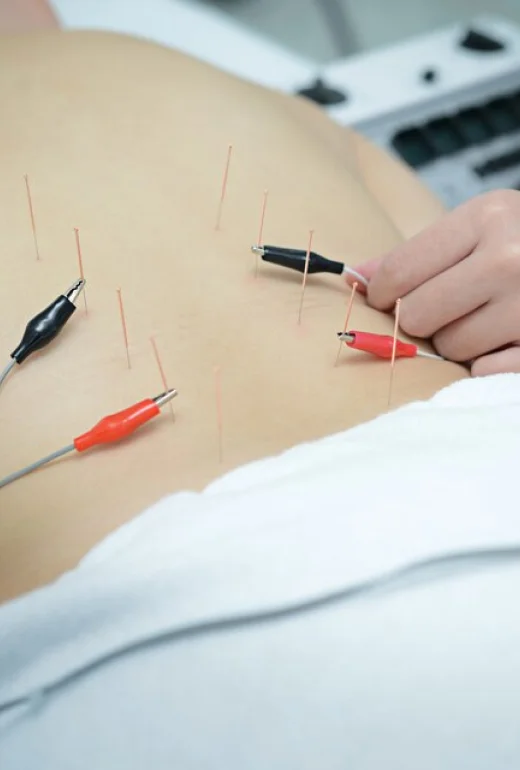 What conditions can you treat with Acupuncture at Pulse Acupuncture in New York?
The World Health Organization currently lists a variety of diseases, symptoms of diseases, or conditions that benefit through treatment from acupuncture. These include:
Neck
Upper back
Low back
Knee injuries
Arthritis
Elbow
Wrist pain
Sport injuries
Thoracic syndrome
Bursitis
Hormonal imbalance
PCOS
UTIs
Frequent urination
PMS
Infertility
Erectile Dysfunction
Miscarriage prevention
Nausea
Baby health
Stress
Anxiety
Depression
Trauma Healing
Insomnia
Acne
Eczema
Dermatitis
Psoriasis
Lichen Sclerosis
Herpes
First visit acupuncture treatment
(includes evaluation, cupping, onnetsu therapy, massage):
$185
Follow-up acupuncture visit (includes cupping, onnetsu therapy, massage)
$165
Cupping (without acupuncture)
$75
Onnetsu Therapy (without acupuncture) 15 min:
$60
First visit: evaluation, acupuncture, serum, moisturizing
cream, gua-sha fascial massage, Celluma Red Light Therapy:
$250


Electro Acupuncture Testimonials in Brooklyn
Electro Acupuncture - FAQ
Yes, when conducted by a trained professional, ElectroAcupuncture is generally considered safe. However, there are certain conditions where ElectroAcupuncture should be avoided, such as in patients with pacemakers, epilepsy, or during pregnancy.
Most patients report feeling minimal discomfort during Electroacupuncture treatment. You may feel a tingling sensation when the electric current is applied, but it is usually not painful.
ElectroAcupuncture is commonly used for conditions such as osteoarthritis, chronic pain, migraine, fibromyalgia, nausea caused by chemotherapy, and some forms of paralysis. Always consult healthcare provider for advice tailored to your specific condition.