Aromatherapy
Aromatherapy in Brooklyn, NYC
New York – a city with a crazy pace of life. That's why stress here can become an integral part of your daily routine. How to cope with stress, fatigue, bad mood, and tension without resorting to medications or alcohol, when just resting no longer helps you? The answer to this question is aromatherapy.
What is aromatherapy in Brooklyn?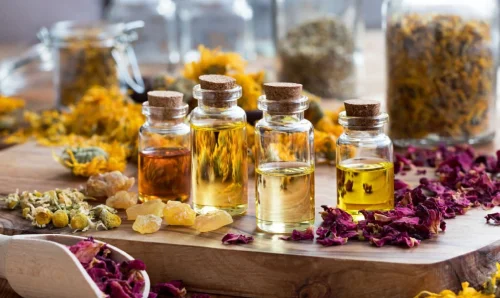 Aroma therapy is a form of alternative medicine that is gaining more and more popularity, and Brooklyn is no exception. Have you ever tried such an exotic way to relax? If not, it's worth trying aromatherapy services at Pulse Acupuncture. In this article, you will learn more about the subject, when aromatherapy can be beneficial, and so on.
Naturals aromatherapy services use essential oils, which are extracted from plants and contain natural aromatic components. Oils can be obtained from different parts of plants, such as leaves, stems, roots, fruits, and so on.
Each essential oil has its unique aroma and properties that can influence both emotional and physical well-being. These oils can exist and be used in different forms, such as massage oil, aerosol, aromatic pillows, and so on. They can be applied at home or in professional salons and spa centers.
A little bit about the history of aromatherapy
Don't be scared by the term "alternative medicine" in the definition of aromatherapy. Aromatherapy history dates back millennia, rooted in the ancient history of many civilizations. The earliest evidence of the use of essential oils was found in the Mesopotamian region (modern-day Iraq, Syria, Turkey, and Iran territories).
In modern history, aromatherapy as a scientifically-based practice emerged in the 20th century. It was pioneered by the French scientist and chemist René-Maurice Gattefossé, who conducted research on aromatherapy oils and their effects on the body in the 1920s. Subsequently, many other scientists and chemists contributed to the further understanding and development of this practice.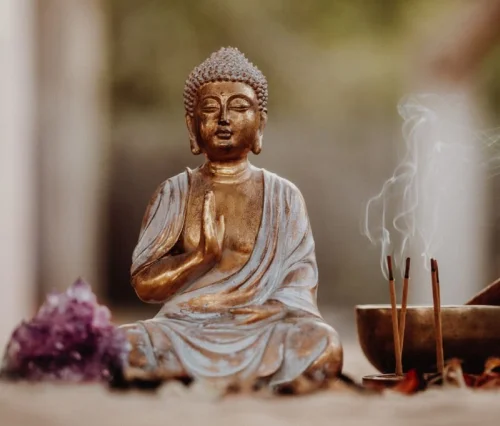 What is aromatherapy good for?
Aromatherapy can be used for the prevention and alternative treatment of various conditions that conventional medicine may not be able to assist you with. Here is an approximate list of how aromatherapy can help:
Aromatherapy for sleep. According to research by the National Sleep Foundation, about 1/3 of adults in the United States do not get the recommended 7 or more hours of sleep. In this case, lavender essential oils can be used to calm the nervous system. This oil is especially beneficial for young people and women with insomnia. For students, it can help them wake up without feeling tired or sleepy. Bergamot oils can help lower blood pressure and improve mental health. In one study, 64% of healthy women surveyed reported that a blend of bergamot and sandalwood essential oils improved their sleep quality. Scientific studies have also shown that a blend of Roman  chamomile, lavender, and neroli can help improve sleep quality even during intensive care.
Aromatherapy for anxiety. The aforementioned blend of Roman chamomile, lavender, and neroli not only improves sleep quality but also helps to fight anxiety. According to research from Johns Hopkins University, essential oils can be effective in cases where other treatment methods have not yielded the desired results.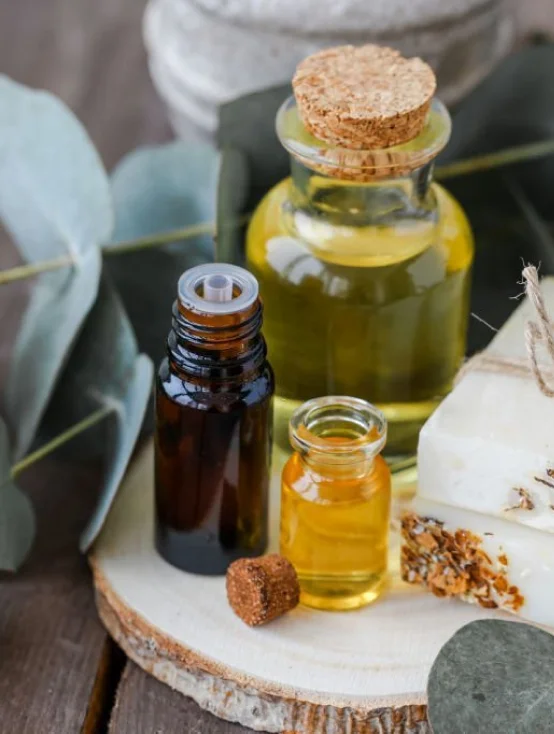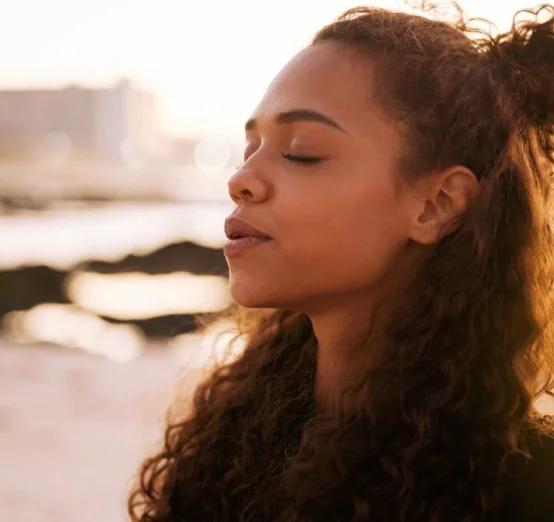 Aromatherapy for nausea. The aromas of ginger, peppermint, spearmint or bergamot can help with symptoms of food poisoning and nausea.
Aromatherapy for headaches. Essential oils of lavender, rosemary, peppermint, chamomile, and eucalyptus can help alleviate symptoms of headaches. However, they should not be used during pregnancy as they may be harmful to the fetus.
Aromatherapy for relaxation. Lavender, geranium, patchouli, or sandalwood essential oils not only improve sleep quality and reduce anxiety but also make you relaxed.
Aromatherapy for migraines. Lemon, peppermint, and lavender essential oils, as mentioned above, can help with migraines, as well as nausea, photophobia, and other migraine symptoms.
And this is not the full list of what aromatherapy can help with. The most important thing is that all of these benefits are scientifically proven.
How does aromatherapy work?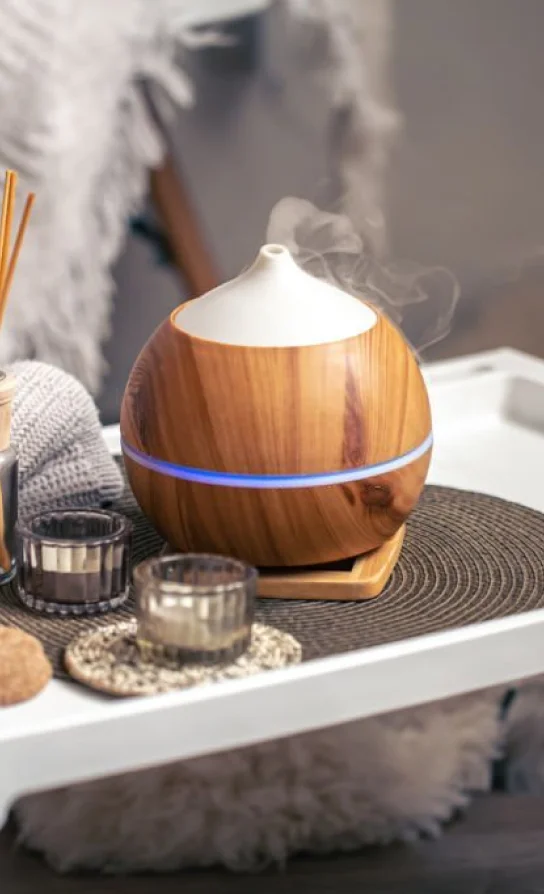 As previously mentioned, aromatherapy is a method of using various essential oils to improve physical or emotional well-being. There are several main methods used in aromatherapy:
Diffusion: this involves inhaling the aroma of essential oils through special devices such as aroma lamps, air humidifiers, diffusers, or aromatic candles. Essential oils are added to water, special containers, or sprayed on surfaces (such as pillows). The oil, when heated or exposed to ultrasonic waves, begins to release its aroma.
Aromatherapy massage: non-greasy essential oils are also used in massage. Such massages are performed for simple relaxation and tension relief, as well as for the prevention and treatment of certain conditions, such as muscle pain or inflammation.
Inhalation: adding essential oils to a hot bath allows the aroma to not only spread through the air but also be absorbed through the skin, providing aromatherapy relaxation or invigorating effect. Remember to follow the rules and use suitable oils to avoid skin irritation.
Compresses: the oil is applied to a cloth, which is then wrapped and heated. This helps to alleviate pain or inflammation in various parts of the body.
Aromatherapy candles: oil is added to the composition of the candle, which releases its aroma during burning. Be cautious and keep these candles away from children and pets.
All of these methods can be used either in combination to treat various conditions or separately for illness prevention or relaxation. The key is to observe safety precautions when doing aromatherapy.
Aromatherapy benefits at Pulse Acupuncture
While aromaterapia and essential oils are not regulated by law, using them without understanding their effects can be dangerous to your health. Therefore, before considering aromatherapy at home, it is important to consult with a specialist. When using aromatherapy at home, you are limited in the range of services that can be professionally provided. For example, you will not be able to perform a professional massage with essential oils. If you care about your health, the best solution is to entrust it to professionals.
Aromatherapy can also be used not as a standalone practice, but in combination with other treatment methods to achieve maximum effectiveness. For example, combining aromatherapy with acupuncture can enhance the positive properties of both practices. When combining aromatherapy and acupuncture, essential oils can be used for:
Applying acupuncture points before needle insertion enhances the effect.
Massaging before or after an acupuncture session to relax muscles and improve blood circulation.
Diffusing the aroma and creating an atmosphere to fight stress and relax.
In general, aromatherapy can be combined with many other Eastern and Western medical and cosmetic practices. For example, aromatherapy can be combined with cupping, tui-na massage, and others.
At Pulse Acupuncture, you do not need to worry about how to properly perform the procedure, what to use, and how to avoid mistakes. Qualified specialists with years of experience will take care of it for you.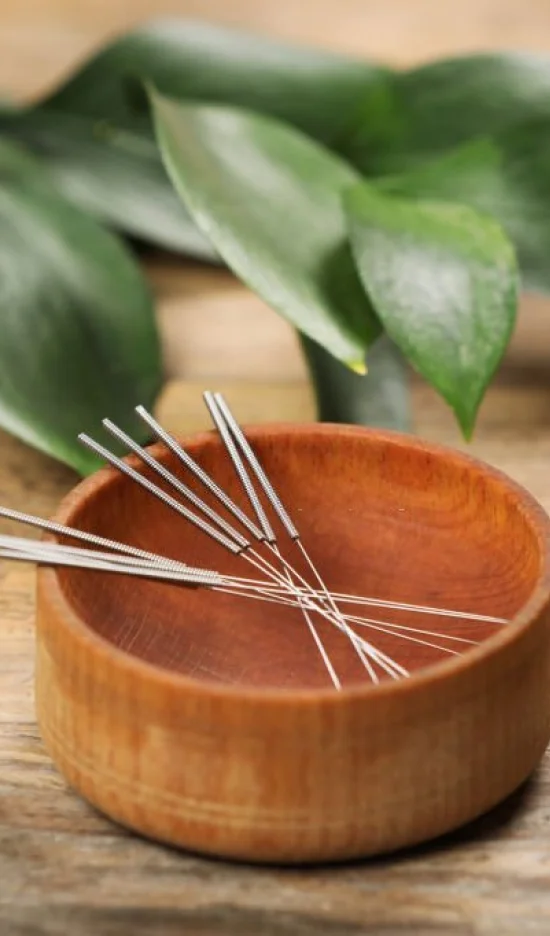 Aromatherapy services at Pulse Acupuncture in Williamsburg, Brooklyn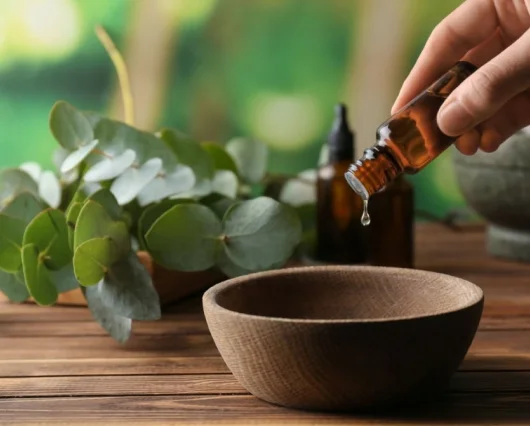 When you visit Pulse Acupuncture, you will be taken care of by Marina Doktorman, a certified specialist and master in acupuncture, various types of massage, chinese herbs, and a professional aromatherapist. With over fifteen years of experience, Marina will be able to pick the most optimal course of procedures for you, no matter what you are looking for or what results you want to achieve.
Not only will you be able to relax and fight fatigue and anxiety, but maybe you will also resolve certain health conditions that traditional medicine may not have been able to help with. Remember, only professional and qualified assistance can not only improve your mental state but also have a positive impact on your physical health.
What conditions can you treat with Acupuncture at Pulse Acupuncture in New York?
The World Health Organization currently lists a variety of diseases, symptoms of diseases, or conditions that benefit through treatment from acupuncture. These include:
Neck
Upper back
Low back
Knee injuries
Arthritis
Elbow
Wrist pain
Sport injuries
Thoracic syndrome
Bursitis
Hormonal imbalance
PCOS
UTIs
Frequent urination
PMS
Infertility
Erectile Dysfunction
Miscarriage prevention
Nausea
Baby health
Stress
Anxiety
Depression
Trauma Healing
Insomnia
Acne
Eczema
Dermatitis
Psoriasis
Lichen Sclerosis
Herpes
First visit acupuncture treatment
(includes evaluation, cupping, onnetsu therapy, massage):
$185
Follow-up acupuncture visit (includes cupping, onnetsu therapy, massage)
$165
Cupping (without acupuncture)
$75
Onnetsu Therapy (without acupuncture) 15 min:
$60
First visit: evaluation, acupuncture, serum, moisturizing
cream, gua-sha fascial massage, Celluma Red Light Therapy:
$250


Aromatherapy Testimonials in Brooklyn